Tangible Radio - Class on Air
Exploring sound through vibration and tactility as expressive media with Deaf and hard-of-hearing students
The second chapter of Audibility, concerned with the Deaf and hard-of-hearing experience with sound art and music, is a two-fold project entitled "Tangible Radio - Class on Air". We will be taking our activities "on-air", with the development of a participatory educational module for authoring for the radio, adapted to the experience(s) of Deaf and hard-of-hearing students from our hosting educational institution, the Special High-School for Deaf and Hard-of-Hearing of Argyroupolis, Athens.
For this purpose, TWIXTlab invited a group of experts in music and radio production, education, and innovative design, to find out more about Deaf culture and experience. The working group, consisting of Orestis Karamanlis (music education, programming), Kalliopi Takaki (radio production), Giorgos Mizithras (radio art), and Petros Flabouris (architecture and acoustic design), introduced their tools at School and developed an original methodology for approaching radio as a technological medium and narrative form, with Deaf accessibility in mind.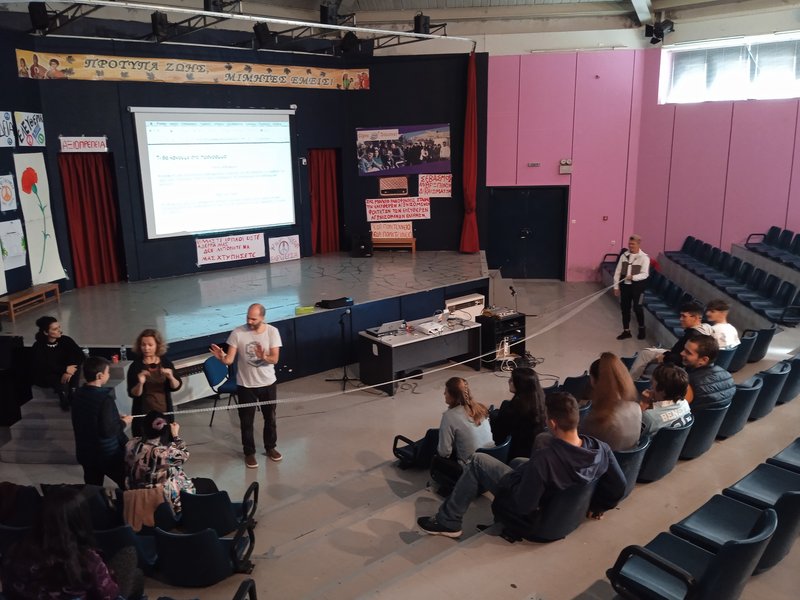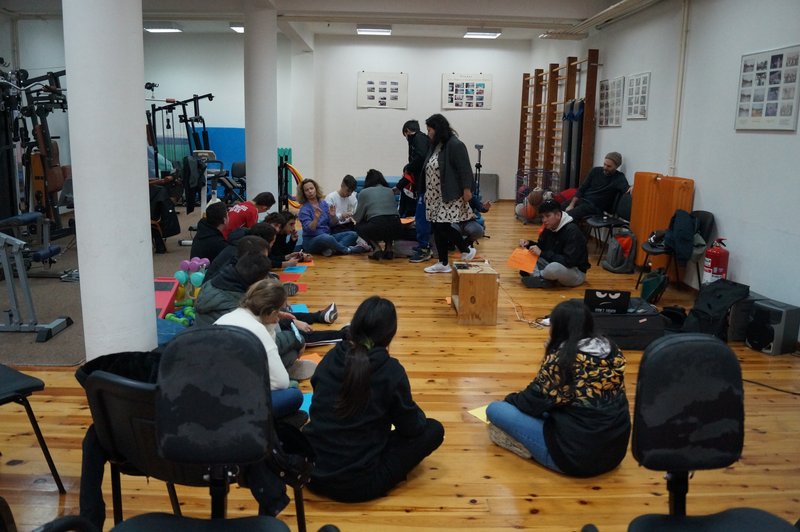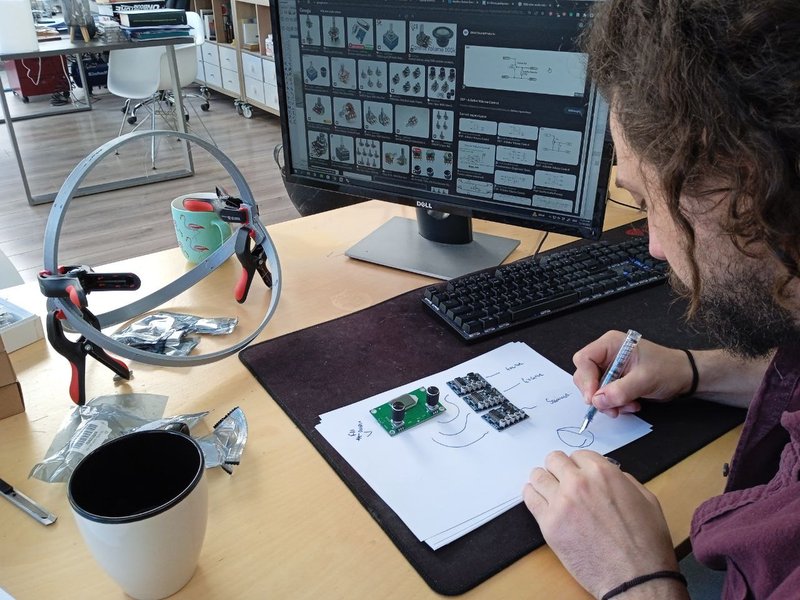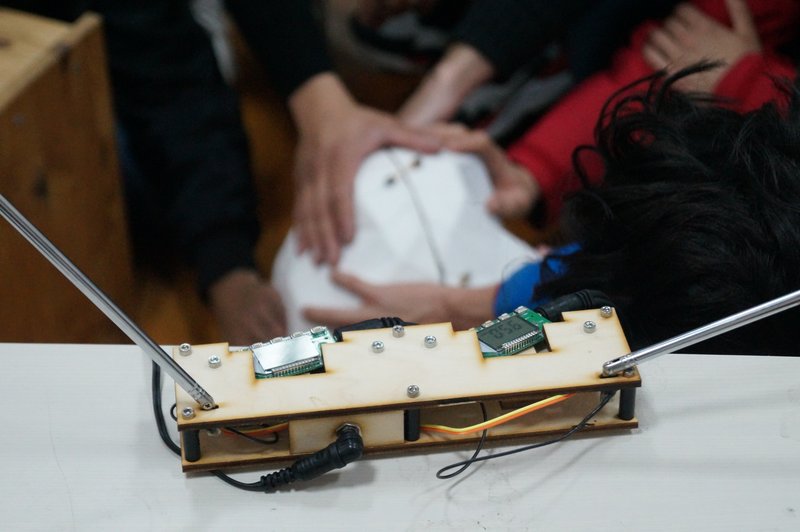 RESIDENCY
---
Adding to our knowledge-and-practice base, resident artists David Bobier and Leslie Putnam (from vibrafusionlab and o'honey collective) from Canada, honored us with their visit to Athens. They presented their work on vibrotactile installations, sound sculpturing and art education, and shared their insightful feedback from their long-lasting practice on the field.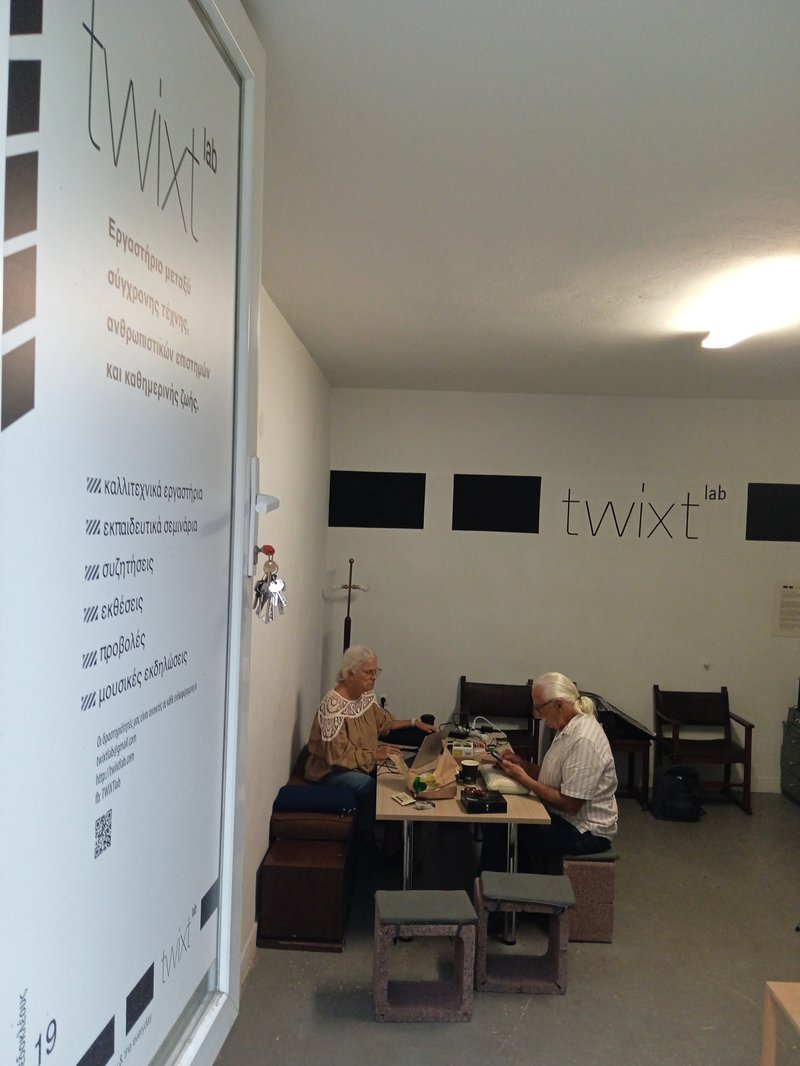 With this project, we are aiming to the production of accessible radio content, alongside the development of original (prototype) radio tech, in collaboration with Deaf and hard of hearing youngsters, for all audiences, regardless of their hearing capacities.
The two folds of the project consist of:
"Tangible Radio": The development of a prototype accessible radio receiver, based on the principles of vibro-tactile sound transmission/diffusion (in contrast to conventional speakers' diffusion through the air). The device is brought to class as an enabler, to "touch the sound" and explore its (literally) hands on expressive potentials together with Deaf and hard-of-hearing students. The students also provide their feedback and comments for amelioration and incorporation of essential features, in a participatory design manner, adapted to the needs of a high-school setting.
"Class on Air": The production of a radio-show by the students, which will be broadcasted live and published as a podcast, to be played through the Tangible Radio device as well as through conventional audio systems.
---
COLOPHON
designer team:
Orestis Karamanlis
Upon completing a PhD in electroacoustic composition, Orestis has been active in composing new music and lecturing in the academia. Currently an Assistant Professor at Athens University, he has produced a diverse body of sound-art and new media work which is frequently performed in concert venues and urban spaces. orestiskaramanlis.net.
Giorgos Mizithras
Giorgos is a musician and creative programmer, active both as composer and performer in the fields of acousmatic music, improvisation, live electronics, and music for theater performances and audiovisual installations. His current artistic research focuses on in the application of media archeology concepts to sound art and music, with the conversion and transformation of transmission, storage and reproduction media as devices of artistic expression.
He studied at De Montfort University's Department of Music Technology and Innovation (Leicester); graduate in the dept. of Composition field of Ionian University's Music Studies department, and the "Music Technology" postgraduate programme of the dept. of Musicology of the National Kapodistrian University of Athens.
Since 2021, he is a PhD candidate in the Department of Music Studies of the Ionian University with PhD thesis topic: "Music with Altered Media: Artistic Practices for Audio Storage, Reproduction and Transmission Media in the Post-Digital Era".
He is a member of the experimental music group Trigger Happy, with concerts both in Greece and abroad (e.g. "Irtijal '19 Festival", Beyrut, 2019; "Borderline Festival", Athens, 2019; "Rhubaba" Gallery (Edinburgh, 2018). He is a key member of KE.Di.Mu.Ra collective, which runs the online radio art station loskop.radio.
Petros Flabouris
Petros is a freelance architect who maintains his architectural office in Volos, Greece, specialising in architectural design, and the AASA non-profit organisationzation, whit focuses on educational applications.
He Studied Applied Arts (BA) and Architecture (BArch, MSc, MArch) in Greece and in Scotland and is currently a PhD candidate in its Department of Architecture, University of Thessaly (SD+ΒE Lab). His thesis is related to new research perspectives of sound environments through the application of the soundscape.
His research interests (academic and artistic) lie in the fields of architecture, architectural acoustics, as well as other key conjuncture points between spatial design and sound studies. He has participated in publications and workshops, including the 10th CRESSON Winter School, "Sound Spaces in Waiting" (Grenoble and Volos, 2022), in which he facilitated the parallel workshop on "social, spatial and environmental vulnerability" and sound, and explored accessible public space accessibility through vibro-tactile and haptic applications.
He is a member of the Technical Chamber of Greece, of EL.IN.A (Hellenic Institute of Acoustics), and the E.A.A (European Acoustics Association).
radio production:
Kalliopi Takaki
Kalliopi is an actress and sound engineer, with long experience in producing and directing radio shows. In recent years she is active in education, conducting radio workshops for children and teenagers; she has also been working as head of public affairs and communication, specializing in social media, keeping at the same time an active relationship with theatre through various positions.
Graduate of the 'Greek Art Theatre - Karolos Koun' (2003) with postgraduate studies in Ancient Drama, she worked in Theatre, Cinema, Radio and Television. She collaborated, as an actress and production manager, with the Athens and Epidaurus Festival, the Greek Art Theatre - Karolos Koun, the Experimental Stage of the National Theatre along with the Mirror Theatre, International Company Project, among others. At the same time she collaborated with various radio stations in Athens as a sound engineer and radio producer.
In 2007 she created radiobubble.gr, the first web radio in Greece, which has decisively influenced the Greek online sphere, and soon became, internationally, an emblematic mass media and communication channel. Since 2012 she is a member and legal representative of the Social Cooperative Enterprise Hackademy, an educational institution that specializes in Radio and Social Media training and education. Among other accomplishments, the Hackademy team has in 2013 created rbdata, the first data journalism research team in Greece, winning a number of international awards and distinctions.
Invited resident artists:
David Bobier
David is a self-identified hard of hearing media artist with a mental health diagnosis and is the parent of a now adult Deaf son, and a recently deceased Deaf daughter. His work has been exhibited internationally and has been the focus of prominent touring exhibitions in Ontario and the Atlantic provinces. Bobier has received grants from Canada Council for the Arts, Social Sciences and Humanities Research Council, Grand NCE, Ontario Arts Council and New Brunswick Arts Council.
He has partnered with Inclusive Media and Design Centre at Ryerson University, Toronto and Tactile Audio Displays Inc. in researching and employing vibrotactile technology as a creative medium. As an extension of this research Bobier has established and is Director of VibraFusionLab in London, Ontario, Canada. The Lab emphasizes a holistic approach to considering vibration as a language of creation and exploration and to investigating broader and more inclusive applications of the sensory interpretation and emotionality of sound and vibration in art making practices. Through VibraFusionLab and in his own art practice Bobier aims at creating opportunities of greater accessibility in art making, art appreciation and in viewer experiences of art practices and presentations.
Using performance and interactive installation Bobier explores the bridging of methods of communication and language and ways of interpreting or transforming one modality to another. His work is engaged in a multi-sensory approach and experimentation that allows for the transitioning and re-interpreting of content and experience from one medium to another with particular emphasis on the tactile as a form of creative expression.
https://www.vflvibrafusionlab.com/
Leslie Putnam
Leslie is a London, Ontario based artist and educator. She earned her BFA from Concordia University in Montreal, Quebec with a Major in Studio Art and Bed from Western University in London, Ontario.
Putnam's early work included exhibitions in France, Portugal and Luxembourg. In Ontario, her work has been presented in solo and group exhibitions including Canadian Clay and Glass Museum, Electric Eclectics, Museum London, Nuit Blanche, JNAAG and Hard Twist Textile Exhibition in Toronto.
As a multi-disciplinary artist, her studio production ranges from explorations using sound within sculptural pieces to large installation works made from natural materials.
In 2010 she and David Bobier formed the o'honey collective as a platform for explorations between the natural world, and the way we have come to experience it through our own constructed realities.
Instagram: lputnaml
Special mention
Xenia Nikolakopoulou is a professor of English language and a Sign Language interpreter (Greek and English). Without her help, mediation, insights, warm response and creative feedback, the "Tangible Radio - Class on Air" project would not have been implemented as smoothly and excitingly as it did.
---
Audibility coordinators:
Dana Papachristou, music, musicology, new media aesthetics - educational coordinator
Yorgos Samantas, anthropology, sound design - project manager
---

with the additional financial support of