A radio play, devoted to our youngest, aiming to describe and explain hospitalization protocols to them in a language and manner familiar and comprehensible to children (what they can expect, who they meet in a hospital). Explaining all this helps to reduce tension and fear, which they often feel if they have to go to a hospital.
When a child is hospitalized, it's stressful for them and their parents. Even if it's just for a few days, let alone if they have to stay a few weeks or even months in a hospital. It is very important that children and their parents understand the disease, since chances of successful recovery very much depend on it as well as adjusting to dealing with all of it. But it is just as important how they go through the whole process of treatment, which sometimes includes staying in a hospital for a certain period of time. During hospitalization and treatment, art can also be a helpful tool, before and during recovery.
In this radio play little girl Kaja meet some people, which she'll be seeing during her hospitalization. We follow them from the moment Kaja is admitted to the hospital, how she prepares for her surgery and goes through it, and her stay in the hospital after the surgery until she goes home. The aim of this radio play is to convey certain information to children in a way most comprehensible to them, in this case what is going to happen if they have to stay in a hospital .
In this radio play we have professional actors, two little girls and some members of the medical staff at the hospital.
Dr. med. Katarina Borovnik, a doctor who specializes in pediatrics and plays Doctor Breda, said: »To be a doctor for children, I mean pediatrics specialist, and help the youngest ones in our society, was always my biggest wish, as soon as I began to study medicine. To get close to a child so that they're not scared and they let you examine them, and at the same time have enough attention for the parents who are always the harshest evaluators of how we do our work – this a challenge every time. But at the same time this work is so inspiring, children's authenticity and their smile always brighten your day. Collaborating in this radio play for children was something new for me, but lots of fun and unforgettable!«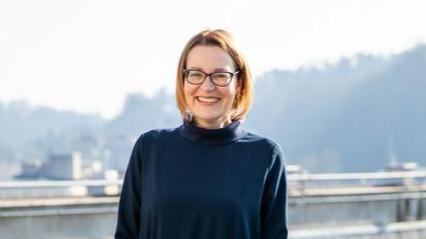 Saška Rakef, radio play's Director and Project Manager of the B-AIR project, added: »When we were thinking about who to cast for this radio play, so whether to - as we'd normally do – hire actors or can we in this case bet on authenticity of communication with children who for various reasons need to be hospitalized, the decision was quick and easy. We had members of the medical staff collaborate with us and share their experiences, the dialogue in the play is influenced by their anecdotes, they advised us during the creative process and they participated in thinking how best to conceive certain parts of the play so that we show all the stages a child needs to go through during the process of hospitalization as realistically as possible. And that is the added value of the play we were looking for. I'm happy that the result is a documentary radio play, which, quality-wise, can measure up to other radio works but at the same time carries with it this very special mission – to (re-)shape a hospital environment into a less stressful one for all children who have to stay there for shorter or longer periods of time.«
Radio play Kaja Must Go to a Hospital is part of Hospital Radio Bolnišničnega radia (povezava na bolnišnični radio), devoted to toddlers, children and youngsters, who for various health reasons must stay in a hospital for shorter or longer periods of time. Carefully curated artistic content is selected bearing in mind how to make their stay in a hospital less stressful and how to reduce their fears and anxiety. The page includes artistic, entertaining, educational and other types of content, which can be helpful and offer support to children during their hospitalization but also during confronting, learning about and understanding what is happening to youngsters during hospitalization.
---
Credits
Authors • Andrej Adamek, Janja-Hana Jamnikar
Adaptation • Suzana Tratnik
Director • Saška Rakef
Dramaturg • Vilma Štritof
Music design • Darja Hlavka Godina
Sound design • Urban Gruden
Performers
Kaja • Luna Khaleesi Meglič
Brina • Mila Mrak
Mommy • Sabina Kogovšek
Daddy • Matej Puc
Nurse • dr. med. Barbara Rojnik, specialist in childbirth and gynecology
Janja, the nurse in doctor's office • Slavica Ravnik, registered nurse, social pedagogue, professor and psychotherapist
Doctor Breda • dr. med. Katarina Borovnik, specialist pediatrician
Surgeon • Primarius dr. med. Igor Mihael Ravnik, specialist pediatrician
Anesthesiologist • dr. med. Vladimir Bricelj, specialist pediatrician, cardiologist
Hospital pedagogue in actual practice Janja Hana Jamnikar
Production • Radio Slovenija 3rd Program – Program Ars